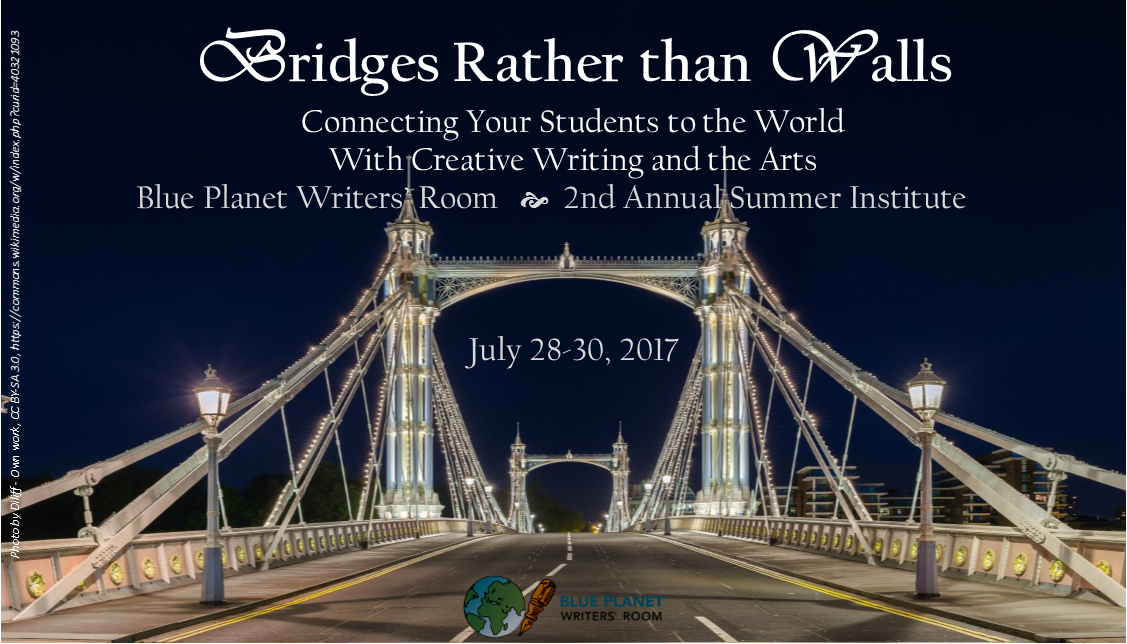 As artists, writers, and educators, we know that writing and the arts are the tools of our trade. How can we use these tools to teach our students about the world outside our borders? To inspire pride in their own heritages? How can we use global learning to improve skills in writing and the arts? To inspire empathy and compassion in our students? How can we use tools of creativity as tools of peace?
How can we and our students build bridges rather than walls?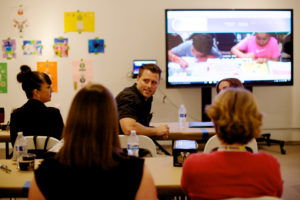 Come spend an amazing weekend learning to build bridges with creative writing, the arts, and global learning.
We'll begin with a focus on you and the unique artistry you bring to your work with students. We'll move on to theme talks and workshops that motivate creativity in you and your students… inspire art as a form of positive resistance…encourage global awareness…and help you bring the world into your classroom.
Presenters will offer fresh approaches and practical take-home materials. Reflection sessions will give you time to think and plan. Casual evening receptions will let you mingle with other excellent educators, writers, and artists.
Space for this one-of-a-kind institute is limited; reserve your spot today!
.
.
Dr. Charles Gleek
Global Educator / Florida Atlantic University
"Carve out space in your summer and attend Blue Planet's Summer Institute. Whether you're a novice or a veteran in your discipline, the work that's done during the Institute will profoundly impact your practice. Equally, the people you'll meet and learn with will become a valuable professional network."
Ashley Monastra
Animation & Game Arts Teacher / North Fort Myers High School for Art & Design
"Every moment of the Summer Institute was engaging and incredibly inspirational. I could hardly write fast enough to keep up with all the ideas each presenter was sparking in me. I've come away with new tools as a teacher and as an artist--tools I can't wait to incorporate into my classroom."
Teresa Stoupas
Principal / The Conservatory School at North Palm Beach
"As a public school, we are tasked with the great responsibility of preparing all students to be the citizens of tomorrow. Blue Planet's work has been a key element in that effort with a focus and emphasis on empathy and developing a respect for others across time zones, politics, and languages."
Dr. Christine Koehn
Executive Director / The Farris Foundation
"[T]he Foundation is primarily focused on supporting programs that increase the availability of arts-access programs, particularly programs designed to expose children and youth to the arts and increase their appreciation for the cultural world, and that increase access to programs designed to encourage children and youth to explore their individual creativity. Blue Planet Writers' Room's Story Ambassadors program is a shining example of that type of programming."
Debbie Battles
Principal / North Grade Elementary School
"Students have developed a love for writing and are very proud to be in this [afterschool writing] club. The students' assessment of the project was very positive and included such comments as "It's fun and helps me write better!" Others have asked, "How can I join the Blue Planet Writers' Club?" It is without hesitation that I offer my support to this creative and fun writing project. I am appreciative that this opportunity has been afforded to our students."
Jeff Fessler
Teacher / Shanghai American School
What a great collaboration this was! Our Chinese teachers were really touched that we focused on their culture in such a unique way, and that we shared it with American students. The parents of my kids are all abuzz too--one said about this project, "This is what school should be like!" So again, thanks for another amazing opportunity that just wouldn't happen without Blue Planet. I could never develop or coordinate such an effort on my own, and am so grateful that you all make this happen. It enriches my teaching, takes me out of my comfort zone (in a really good way), inspires my kids, and taps into my passions. You guys rock! Looking forward to more collaborations in the future!
Dwayne Taylor
Digital Connectors Director / Northwood Youth Empowerment Center, West Palm Beach
"I am honored to have had the opportunity to work with Blue Planet Writers' Room. Susan Gay Hyatt and Cora Bresciano are two of the best educators I have ever had the privilege of working with. They turned my Digital Connector class into a work of art. They brought the best out of each of my students. They made my students into writers and poets and sparked their imaginations. Their talent is amazing! They were able to get my class of technical students (geeks) engaged in writing, not just on the surface, but deep down in hearts and minds. In today's world of average and substandard teachers and programs, Blue Planet represents what education should be! They inspired my students to do more, to learn more about writing, and to learn more about themselves though writing. As I stated in a meeting of afterschool program administrators, "you are a fool if you are not using Blue Planet Writers' Room in your programs!" They are simply the best. They are exceptional educators, with great teaching and writing methods, and they will get the best out of each and every one of your students."
 .

Institute Schedule
Friday, July 28   6-9 pm at Blue Planet Writers' Room
We Are Beautiful and Strange: Drawing Upon Your Own Creativity
Check-in, Opening Reception
Workshop: Finding Your Ikigai
     Susan Gay Hyatt, PhD, Co-Executive Director
     Blue Planet Writers' Room, Florida
Saturday, July 29   9 am – 4:45 pm at Norton Museum of Art
Create Dangerously: Global Arts as Response and Resistance to Turmoil
–Includes Continental Breakfast and Box Lunch–
Theme Talk: A Bridge of Birds: Creative Work as Positive Resistance 
     Cora Bresciano, MFA, Co-Executive Director
     Blue Planet Writers' Room, Florida
Drawing upon the ancient Japanese Tanabata legend, this theme talk and workshop will explore how artists and writers in this historical moment can fight frustration and despair–and work as agents of change–by responding and resisting with the "tools of their trade."
We will look at ways to create and inspire artistic responses, in our own craft and in our students' work, that address the issues that worry us–or outrage us. We will discuss how we can lead through our art–how we can offer positivity, hope, and avenues of creative (rather than destructive) self-expression to a populace made angry and weary by the spectres of terrorism and authoritarianism across the world.
Theme Talk: Click. Draw. Animate.: A Creative Collaboration with Indonesia
Ashley Monastra, Animation & Game Design Teacher
     North Fort Myers High School for Arts & Media, Florida
Theme Talk: Fighting Isolationism Through Global Education Projects
     Geraldine Heaney, Teaching Artist
     Platform, Glasgow; remote from Scotland
Gallery Walk and Workshop: Democratizing Art Criticism: Teaching Tools To Empower Arts Audiences
     Amy Broderick, MFA, Associate Professor
     Dept. of Visual Arts & Art History, Florida Atlantic University
Theme Talk: The Power of the Press
     John Cutrone
     Jaffe Center for Book Arts, Florida, USA
The perfection of the printing press and movable type in the 15th century revolutionized communication and the dissemination of knowledge, and it wasn't long before the press became a voice for the people (or for those with access to the technology, at least). This continues to this day, even in our post analog, digital age, which has fueled a renaissance of interest in letterpress printing and the book arts.
In this presentation, we'll utilize first source materials as we explore the works and ideas of contemporary activist artists working in the old and venerable print medium. We'll focus on letterpress printing by feisty, politically engaged printers, but in that same populist spirit that fuels the Power of the Press notion, we will bring in other contemporary movements like Xerography and zines; all of this to provide inspiration and fodder for your students to take these ideas and use them as their own as vehicles for positive change.
Reception
Sunday, July 30   12 noon – 5 pm at Morikami Museum & Japanese Gardens
Building a Bridge Out Over the Sea: Crafting Meaningful Global Projects
–Includes Box Lunch–
Theme Talk: Connecting Across Continents: An International Education Project Between Uganda the the USA
     Teddy Nabachwa, Project Coordinator
     Kasubi Parents School, Rubaga, Uganda; remote from Uganda
Theme Talk and Workshop: After the Experience: Writing as Debriefing Activities
     Charles Gleek, EdD
     Florida Atlantic University, USA
Simulations, collaborative projects, and other forms of active learning rank are highly impactful pedagogical techniques. Not only do active learning experiences provide opportunities for students to participate in cognitive, behavioral, and emotionally engaging educational tasks, but they also provide situations for facilitating personalized instruction, fostering rich discussions, as well formative assessment and feedback around learning.
As technology allows educators and students to leverage tools to engage in exciting, globally-oriented learning across boundaries, we must remain cognizant of the value of reflecting on learning experiences in a profound and meaningful way. Debriefing–the act of examining one's role in the learning process–is an essential component of active learning in that it opens up spaces for metacognitive conversations and analysis across a range of academic disciplines.
This workshop will focus on the use of creative and analytical writing as a cornerstone aspect of the debriefing process. Participants will take part in a brief cross-cultural simulation, followed by a writing session designed to highlight the role that written debriefing plays in learning. Participants will also participate in discussions around various topics which come up during the activities and will have access to resources and research towards incorporating reflective and debriefing writing into their pedagogical practice.
Gallery Walk and Workshop: Bridging East and West: Creating a Story Exchange with Kamishibai
     Amanda Gomes, Alexandra Weaver
     Education Department, Morikami Museum & Japanese Gardens, Florida
Final Reflection Session & Reception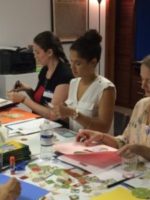 Theme Talk and Workshop Leaders
Cora Bresciano, MFA
Cora Bresciano is the co-founder and co-executive director of Blue Planet Writers' Room. She has served as the Cultural and Educational Projects Director for 3-Way Split, a multi-country business, arts, and education collaboration, and she has presented on her work in such venues as Florida Atlantic University (FAU)'s Social Justice Symposium, Lynn University's Education Doctorate program, the Hawaii International Conference on Arts and Humanities, FAU's Global Education Conference, and the 3-Way Split International Forum in England. Recently, her article about the effects of tri-lingualism within the context of an arts-integrated international collaboration was published by Teaching Artist Journal.
Cora holds a Master of Fine Arts degree in English/Creative Writing from FAU, a BS in Music Education from Hofstra University in New York, and she is currently pursuing a PhD in Comparative Studies, with a focus on the intersection between literature and global studies, at FAU. Her research focuses on the power of story to connect or divide people across borders. She is the recipient of a current grant from FAU for her Art of Peace global online project, while a grant from the Cultural Council of Palm Beach County also helped her create Hometown Stories, her international writing project website.
Amy Broderick, MFA
Amy Broderick is Associate Professor of Drawing and Painting and Head of the Foundations Program at Florida Atlantic University.  Her creative practice encompasses studio production, art writing, excellence in teaching, and academic leadership.  She uses the processes of drawing and paper construction to explore the methods we humans use to locate ourselves relative to our physical and information environments.
Amy has won numerous awards for teaching and scholarly activity, including the Award for Excellence and Innovation in Undergraduate Teaching (FAU), Master Teacher Award (FAU), Honors Faculty Fellowship (FAU), Florida Individual Artist Fellowship, South Florida Cultural Consortium Fellowship for Visual and Media Artists, and National Council of Arts Administrators Emerging Art Administrator Fellowship.  She has exhibited her drawing-based work nationally and internationally, published scholarly articles in national publications, and served on the boards of national arts organizations. Visit her at www.amybroderick.com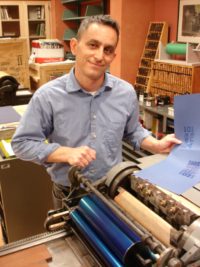 John Cutrone, MFA
John Cutrone is a writer, letterpress printer, and book artist. He is the author of the Convivio Book of Days, a blog focused on the seasonal round of the year and the idea that each day can include at least a bit of ceremony. He is a partner in Convivio Bookworks, a letterpress and book arts studio in Lake Worth, Florida. And he is the Director of the Jaffe Center for Book Arts at Florida Atlantic University Libraries, a center focused on the traditions of bookmaking and the artists' book, a form of artistic expression that comes out of these traditions.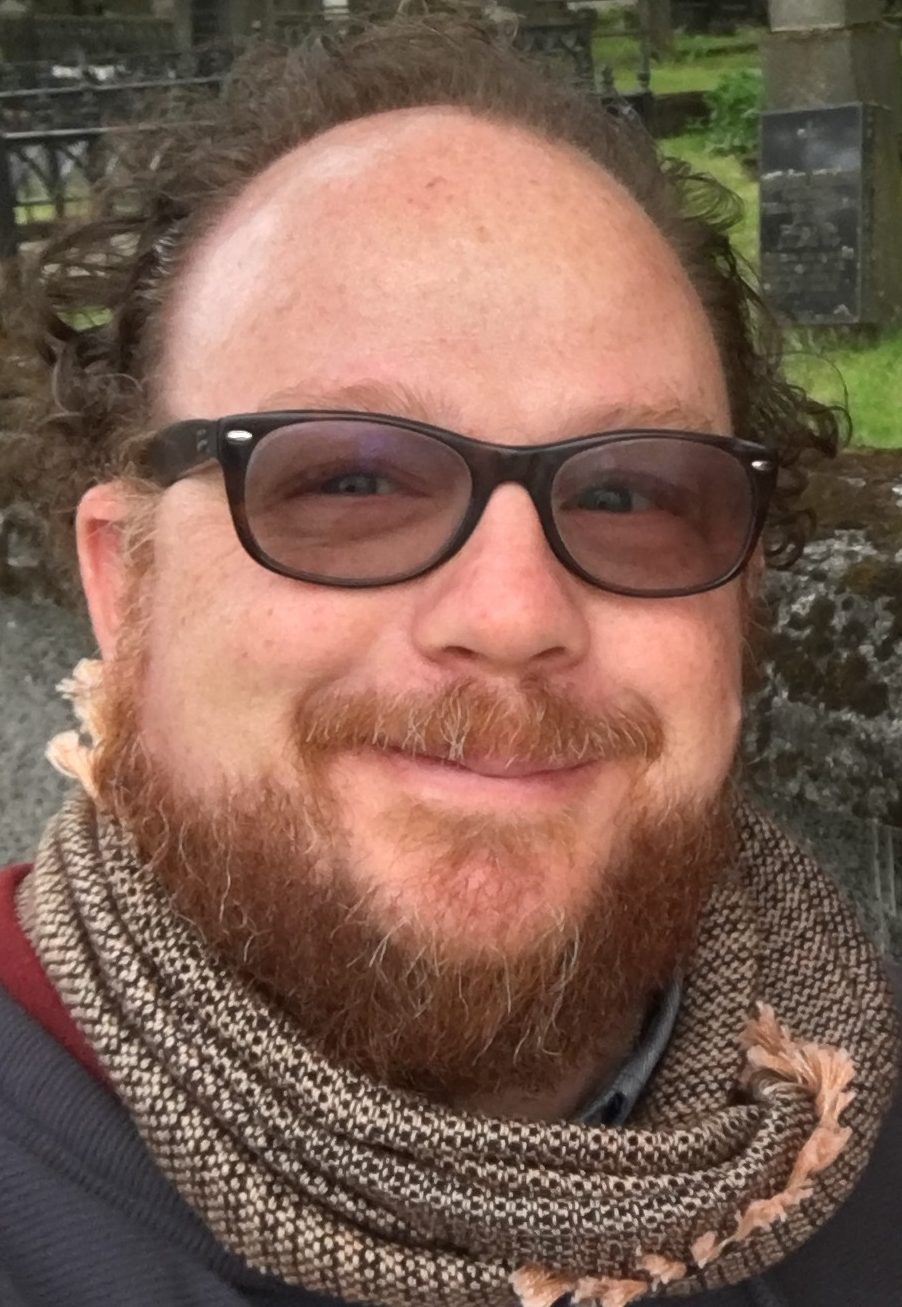 Charles Gleek, EdD
Dr. Charlie Gleek is a veteran global educator who works with students and teachers at the graduate, undergraduate, and secondary level. Focusing his work on the value of reflective and analytical writing in light of engaging learning experiences, Charlie has published in a diverse set of venues including i.e: inquiry in education and Education Week. Charlie's teaching, curriculum design, and workshop facilitation has led him to work with students and professionals around the world, including those at Arizona State University, Florida Atlantic University, Florida International University, the International Baccalaureate, Lynn University, as well as a variety of independent and state schools in the United States, Europe, Asia, and Africa.
Charlie holds both Bachelor's and Master's degrees in Political Science, specializing in Comparative and International Politics, as well as a Doctorate of Educational Leadership. Charlie currently teaches courses in writing and digital humanities at Florida Atlantic University where he is working towards his Ph.D. in Comparative Studies, focusing his research on questions surrounding the political economy of digital print culture in contemporary literary magazines.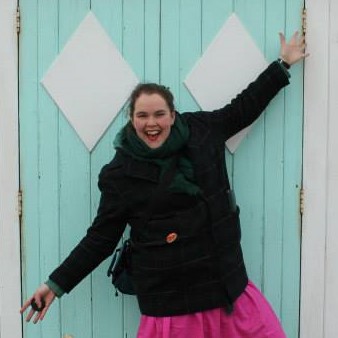 Geraldine Heaney
Geraldine Heaney creates and partakes in collaborative exploration with enthusiasm and hope. She thinks the arts offer other ways of exploring the world we live in. She believes that creatively sharing ideas and experiences is an important part of enriching life and the lives of those she shares with.
Geraldine is a film maker and works across art forms. She works on a diverse range of projects and has previously designed and facilitated projects for Scottish companies including Firefly Arts, Platform, National Theatre of Scotland and Imaginate.
Last year she was commissioned to create films for Starcatchers, Platform, Sense Scotland, and a range of other arts and community organizations.
Alongside this, she is co-founder of the independent record label KOR! Records, which runs experimental music projects with young people who have additional support needs.
Geraldine is currently studying Level 6 BSL and is very interested in exploring the creative possibilities of access in her work.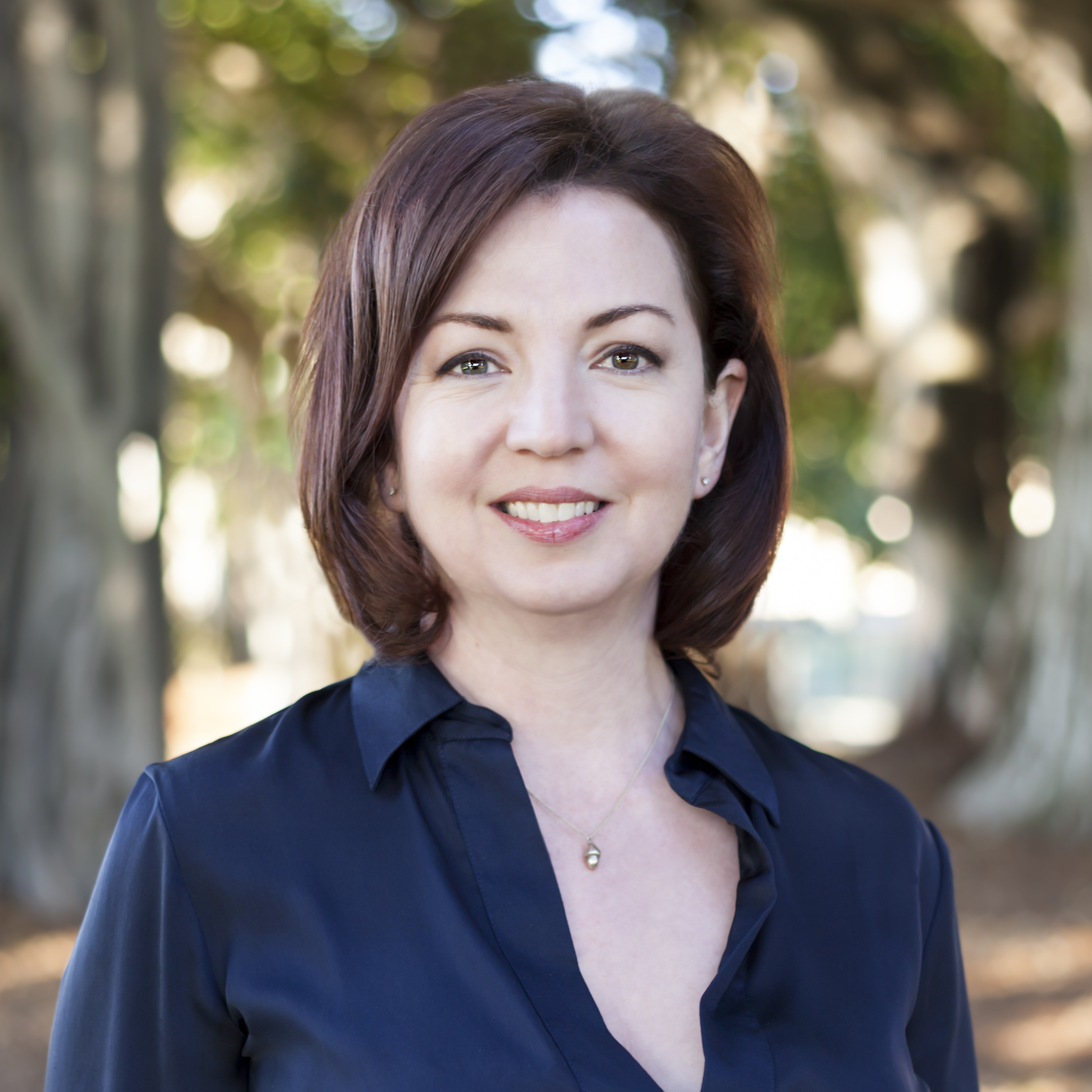 Susan Gay Hyatt, PhD
Dr. Susan Gay Hyatt is an arts educator with twenty years' experience in theater and arts education. She holds a BFA in theater, an MFA in Acting, and a PhD in Curriculum and Instruction (focus on arts education). Susan has taught as an adjunct faculty member at Lynn University and Florida Atlantic University.
From 2002-2009, she served as the director of education for a regional theater company, where she created collaborative drama and writing programs with students in South Florida and their peers in Rwanda, South Africa, and Kosovo. She also created drama and writing programs for the young women at the Transitions Home for Teen Mothers, residents of The Lord's Place Homeless Shelter, and children with severe disabilities at Royal Palm School.
In 2008, she received the Palm Beach County Cultural Council's Arts Educator of the Year Award. Susan served as the Arts Integration Project Manager (2012-2014) for the School District of Palm Beach County's $1.2 million Arts in Education Model Development and Dissemination (AEMDD) grant from the U.S. Department of Education, which focused on enhancing student achievement through arts integration, supporting teachers with high-quality professional development in order to sustain their integrated practice, and developing a model that can be replicated in other school districts.
Ashley Monastra, BFA
Ashley Monastra is a teacher of Animation and Game Design at North Fort Myers High School for Arts and Media in Florida. With a BFA from Ringling College of Art and Design, Ashley began her career as a professional animator, working on a number of projects including the major motion picture Dawn of the Planet of the Apes. A former teaching artist for Blue Planet Writers' Room, where she led several international collaborations, Ashley is now incorporating global connections and collaborations into her classroom teaching praxis.

Teddy Nabachwa
Teddy Nabachwa is the Project Coordinator for Kasubi Parents Schools and Divine Secondary School in Kampala, Uganda. She coordinates the schools' international partnership projects; she facilitates their exchange programs, which include in-person visits; and she maintains consistency across the schools' international collaborations. Teddy establishes and maintains long-term collaborations that provide broad and rich experiences for the teachers and students in the schools' Nursery, Primary, and Secondary Sections.
.
Who Will Benefit from Attending the Institute?
Blue Planet's Summer Institute, with its focus on creative writing and the arts as part of global education, inspires and informs attendees from a number of backgrounds.
Language Arts, World Languages, or Social Studies Teachers from grades 3-12
Teaching Writers
Teaching Artists
International School Teachers
International Baccalaureate Teachers
Cultural Educators
Graduate students in Education, the Arts, and the Humanities
Photos from 2016 Institute by Mary Stucchi Photography
.